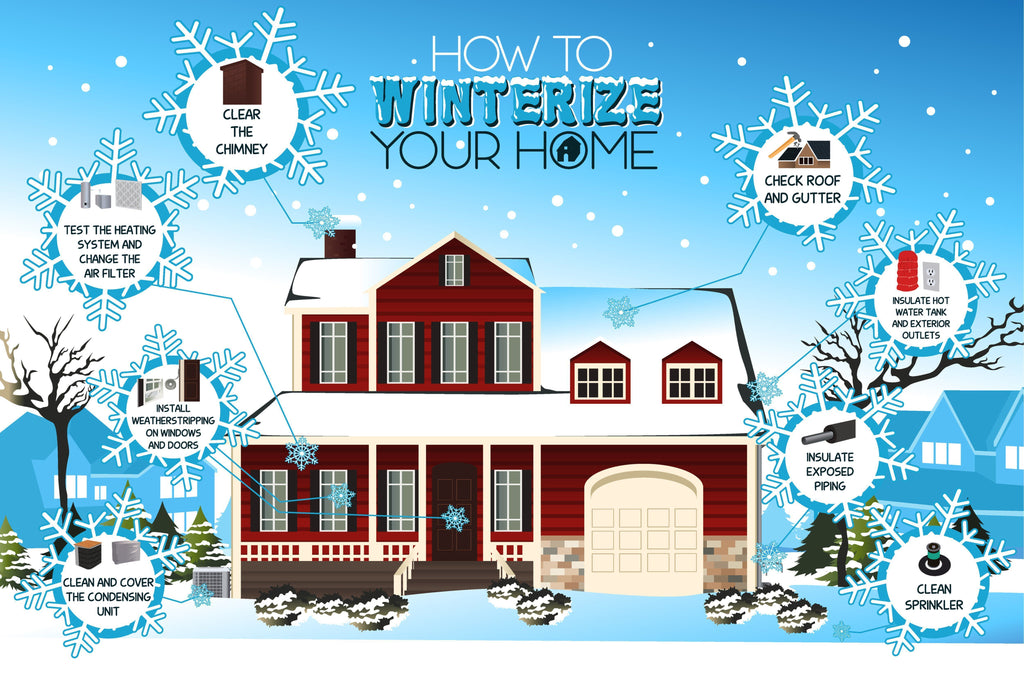 Winterize your home: an essential checklist for homeowners
Winter has arrived, there are no buts about it. Have you winterized your home? Going through a comprehensive winter maintenance routine will ensure your home is protected from harsh weather and will help to keep your house warm, save you money, and ensure that you and your loved ones are safe.
Here are our top tips for winterizing your home:
1. Clean all of your gutters
If your gutters are clogged with leaves, twigs, and debris, water will not drain from them. This will cause them to freeze in winter temperatures and potentially cause a backup of melting snow and ice on your roof – which can cause much more serious consequences down the road. Be sure to clean all gutters and downspouts to ensure they can handle the melt in the springtime.
2. Have your roof inspected
If you have hired somebody to clean your gutters, that would be an optimum time to have them also take a close look at your roof for damage, broken or missing shingles or roof tiles. Pay special attention to roof projections as these are prime areas for leaks.
3. Place new weather stripping around doors and windows
Weather stripping is an easy and affordable way to enhance your home's insulating ability. It will keep cold drafts out and keep you and your family snug and warm inside. It may even help you save a lot of money on utility bills!
4. Install storm windows and doors
Take down your screen windows and screen doors and replace them with storms. This will help to block cold air and weather from getting through and will enhance your home's energy efficiency.
5. Have your chimney cleaned before you burn
During the summer months, lots of debris and even critters can take up residence in your chimney. If you light a fire in your fireplace without tending to these issues you may have a bigger problem on your hands as the flue may be blocked, causing a chimney fire. A professional chimney service can also check for cracks and damage, which can affect efficiency.
6. Schedule seasonal maintenance for your furnace or heating systems
Your furnace is essential for winter comfort. To make sure it is working when you need it most, have an HVAC technician give it the once over.
7. Replace your furnace filter
This is something you can do yourself, but if you have a technician over to inspect your ducts and furnace they can probably do this for you as well. It's important to replace your furnace filter as recommended by the manufacturer. This is often suggested to be done every six months. A clogged or dirty filter will have a negative impact on your inside air quality and could harm your health.
8. Inspect and protect your pipes
A burst pipe is just about the worst thing that can happen. Repairs are costly and you could stand to lose or ruin many valuable items. If your pipes have a tendency to freeze, open your faucets to allow a constant drip. This will ensure that the water inside keeps moving and does not freeze. Protect your pipes from cold air around them by insulating them or sealing up any holes to the outside. If you are a snowbird, make sure you leave your thermostat set above freezing so that your home's innards stay safe.
9. Be prepared for the worst
Don't get caught scrambling for winter snow-clearing essentials like shovels, bags of salt, and ice scrapers for your vehicle. If you have snow removal equipment like a snowblower, be sure to have it serviced before you turn it on. That way, it will be ready to rock when you need it most.
Being prepared for harsh winter conditions (even if they don't happen) gives you an edge when it comes to home safety and energy efficiency – not to mention the stress you can let go of, knowing that you are ready for whatever Mother Nature has in store.

Safety Workwear is your source for handy tips and safety news.
---