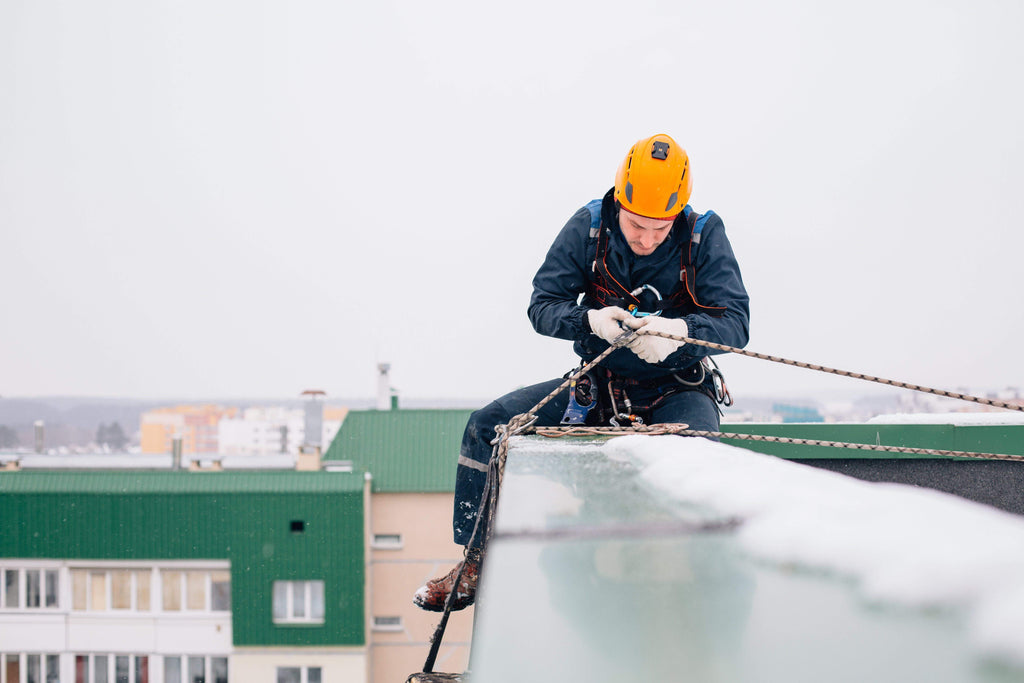 Roofing Safety Equipment
Insulation roofers who work with SPF (spray polyurethane foam) face plenty of safety perils on the job. Working on ladders, high on rooftops, using power tools, electrical hazards, intense noise situations and dangerous substances are common, as is an inevitable exposure to the high heat of summer when most roofing work takes place.
Risks include barrier-less roof edges and steeply cambered roofs. Adding in the potential for high winds, wet surfaces, and the risk of unsafe behavior from coworkers, an uncontrolled work environment could present a deadly situation.
Roofing companies need to be diligent in protecting their workers, assessing risks and putting contingencies in place to prevent injury.
OSHA Safety Guidelines for fall prevention
The OSHA is the United States Department of Labor's Occupational Safety and Health Administration, and according to their guidelines, falls can be prevented by implementing three steps: Plan, Provide, and Train.
It all starts with wearing the right protective equipment. Personal protective roofing safety equipment can minimize harm from a range of perils, focusing on protecting the feet, head, ears, eyes, and hands with steel-toed boots, earplugs, safety eyewear, gloves, and respirators. All of these items are recommended and often required in this line of work, as are high-vis safety vests and flame-resistant apparel.
If you are working six feet or more above ground level you may be at risk for a fall injury. Companies are required to provide fall protection and appropriate fall prevention gear for workers on every roofing job.
This equipment can include:
An anchorage
Body harness with D-ring
Self-retracting lifeline or connecting device between the harness and anchor point
Prevention is key
Temporary guard railings are often installed prior to the start of each roofing job. These rails provide fall protection as long as workers manage to stay on the right side of the temporary railing.
Airborne risks are also a concern, in other words, dangerous substances you are at risk of breathing into your lungs, such as asbestos or silica. The risk of silicosis is so great, in fact, that the OSHA now requires any worker who is working around respirable silica must complete training on the proper use of silica masks. The OSHA approved device for silica safety is a NIOSH-approved N95 respirator. Employers are responsible for ensuring that all affected employees receive this training and use the appropriate respirators as directed.
If you are interested in learning more about safety requirements on the job, check this space often for tips and advice.
---